From November 7–18, four Hoyas represented Georgetown at the United Nations climate change conference in Marrakech, Morocco (aka COP22 or simply COP): undergraduate International Politics Major Summer Lyle-Holmes and McCourt School of Public Policy graduate students Laqiqige "Judy" Zhu, Zhihong "Helen" Han, and Will Hackman.
Year after year alarm bells are rung by the scientific, academic, and civil society communities that time is running out in ensuring our future remains sustainable. Any backsliding due to politics, especially from the world's most powerful country, threatens this narrow window. Yet, these are the real-world challenges international agreements of any kind face. The framework these U.N. conferences have created are supposed to enable the international community to move forward in the face of any individual country's periodic turbulence.
The key message of COP22 was that the world remains committed to achieving our climate goals (primarily) and with or without the U.S. (secondarily). But, no country at this time, including the U.S. (until we hear definitively otherwise), has expressed interest in pulling out of the Paris Agreement. We will explore this theme in the following pages and will dig into the meetings and conversations we had over the two weeks regarding: implementation of the 2015 Paris climate Agreement, the uncertain future outlook of U.S. action, emerging Chinese leadership, the importance of the private sector and subnational actors, climate finance, and the latest climate science. In doing so, we will assume a basic understanding of climate change terminology and concepts. For more background, the McCourt School's energy and environmental policy student organization (McCourt E&E), has a number of blogs that dig into the history of the UNFCCC process including one they published right before COP22 "Five Things to Follow during the U.N. Climate Conference in Marrakech, Morocco".
Week One (Nov 7–11)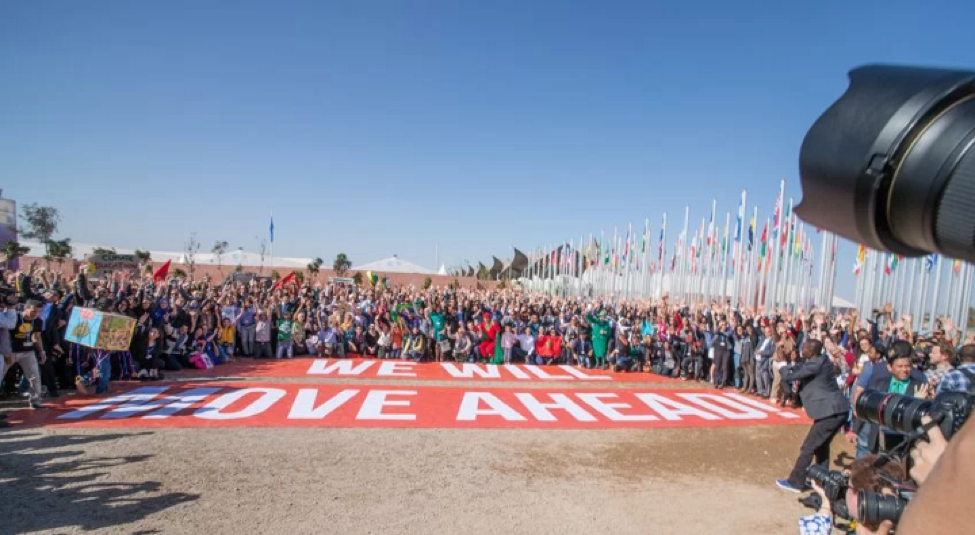 Credit: UN.org
The U.S. Election
The first week of COP was dominated by the potential ramifications of the U.S. election. President-elect Trump has gone on-the-record saying he thinks climate change is a hoax and that he'd withdraw from the Paris climate Agreement. In the weeks following the election, Trump also appointed a well-known climate skeptic to a key position on his leadership team that will determine who will head of the Environmental Protection Agency — the U.S. agency tasked with regulating climate changing greenhouse gas emissions. With so much at stake and facing such uncertainty, emotions at the conference were somber. Judy Zhu described her first-hand accounts of this sentiment in her November 9 blog post "Reactions to the U.S. Election at COP22". As Cameron Michaely Noël, a student representative from American University in D.C., stated to Judy the morning after the election, "this morning, at the conference, I feel the unfamiliar hollowness of betrayal. I can't stop the involuntary tears."
Many who are dedicated to environmental protections and addressing climate change as an imminent threat may have felt similarly in the wake of the U.S. election. However, the truth is that we don't yet know what the Trump administration will do. And it's possible that they might still make climate change progress on the international level even if they seek to stagnate or roll back domestic actions. How could this be possible? Well, as one senior State Department official put it to us, "this is a huge opportunity for U.S. businesses. We have a competitive advantage in technology and clean energy goods and services. The business community is unified that it is very important to move forward. The clean energy economy is a multi-trillion dollar market and it's implausible the U.S. wouldn't want to be a part of that."
That's not to say that under Trump fossil fuel interests might not be re-prioritized at home, which may lead to increased pipelines being built (including the Keystone XL), increased resource extraction on federal lands and waters, and rollbacks of environmental protections. There's no shortage of potential domestic environmental concerns under the Trump administration and there are many voices exploring these points so we won't get into them here. However, if the right private sector "American competitiveness" argument can be made then Trump might see the benefit in continuing international engagement. This is the hope of the outgoing Obama administration.
The Business Case for Climate Action
The result of the U.S. election forced each of us at COP to improve our understandings of the efforts of non-governmental and private sector actors in fighting climate change as well as what's possible at the state and city level in an absence of federal leadership. Summer organized her COP schedule the first week to this regard and attended talks by stakeholders like the Green Climate Fund, which provides financing for climate mitigation and adaptation projects by building public-private partnerships, and presentations by corporate heads like Facebook Director of Sustainability Bill Weihl who is focused on making sustainability more important to their bottom line. Weihl is specifically interested in how to make green energy a better investment.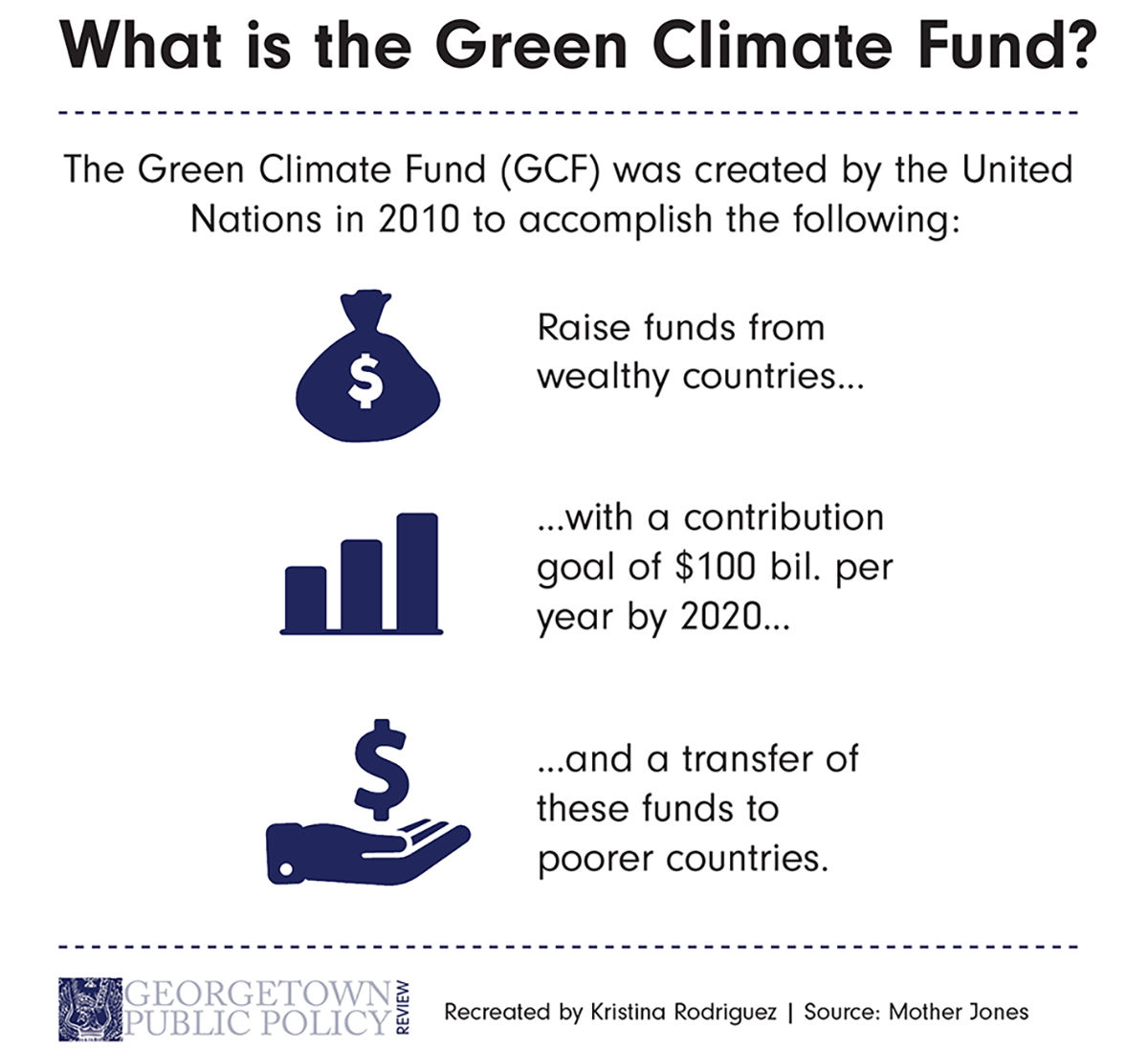 The Green Climate Fund's (GCF) Private Sector Facility (PSF) is focused on finding ways to make green investments appealing to capital markets. According to the think tank Foreign Policy in Focus, "[PSF] was created to encourage private investment in projects [in developing countries only] that reduce both the causes of climate change (by mitigating greenhouse gases) and its impacts (by adapting to a warmer world)." The GCF board hopes the PSF and GCF in general will "ultimately use a broad range of financial instruments," in particular, "the pension funds and other institutional investors that control trillions of dollars that pass through Wall Street and other financial centers".
Dr. Hakeima El Haite, Minister Delegate in Charge of the Environment for Morocco, emphasized in her address to the "Business and Industry Showcase," on "Business and Industry Day," on November 9 — each day at COP has a theme — that between now and 2050, non-action on climate change could cause a 5% loss in global GDP. Programs like those from the GCF are vital in providing expert and financial assistance to facilitate action on a large scale.
The U.S. pledged an initial $3 billion to the GCF and has pledged to mobilize, along with other developed countries, $100 billion in climate finance per year by 2020 much of which may flow through GCF. Given the public-private nature of GCF, this funding will be matched with private sector investment that will help to "de-risk" the latter. It is now universally recognized that there is not enough public sector funds to meet our climate needs. We need to take the limited funds governments have available to leverage private investment that is still hard to mobilize in large quantities currently due to many investors still viewing many climate projects as risky or unprofitable. However, the only well deep enough to meet the tens-to-hundreds of trillions in climate investment needed is the private sector. The right policies that provide the right incentives are therefore critical in sending business the right signals.
On the campaign trail, Donald Trump said he would "save $100 billion over eight years by cutting all federal climate change spending — a sum his campaign says would be achieved by eliminating domestic and international climate programs," according to Bloomberg. One can imagine U.S. funding of GCF to be on the chopping block. Yet, as mentioned, no one knows what the Trump administration will do and there may be points for optimism if the business case is made in the right way, as described. Either way, "the direct U.S. governmental contribution to the $100 billion was never going to be that large," says Nicholas Stern, a member of the House of Lords in the U.K. and a former chief economist at the World Bank. "There wasn't great U.S. largess in all of this."
In some ways, this is the direction things were always moving. The biggest need for public sector leadership was bringing the world together into an agreement last year in Paris. On this front, the U.S. under Obama performed spectacularly, as has the rest of the world in bringing the agreement "into force" since. Now that the agreement is in place, the real work begins in decarbonizing the world economy and public-private partnerships will be key. The future of climate change policy has to make economic sense and contribute to increases in quality of life, especially for the global poor. This isn't anything new. But the tone to this regard taken by many at COP22, particularly after the U.S. election, was arguably more forceful than ever before.
Market forces are clearly already at play in moving us toward our global clean energy economy goals. But it was the hope of many at the COP that governments could incentive a quicker transition. They see this as a win for everyone and the statistics seem to support. The worldwide renewable energy sector now employs 8 million people and is growing rapidly. In the U.S., there are now twice as many solar workers as coal miners. According to a report from the International Renewable Energy Agency (Irena), "more than 769,000 people were employed in renewable energy in the US in 2015, dwarfing the 187,000 employed in the oil and gas sector and the 68,000 in coal mining. The gap is set to grow further, with jobs in solar and wind growing by more than 20% in 2015, while oil and gas jobs fell by 18% as the fossil fuel industry struggled with low prices." Hopefully the Trump transition team is listening.
Week Two (Nov 14–18)
China Emerging
By the start of week two, it seemed the election shock had worn off a bit, and grim resolve had fallen over conference participants. While many statements continued to be made regarding the U.S. election, countries vowed to move forward with or without U.S. participation. The Paris agreement has now been signed by 193 countries representing over 98% of global emissions. The international framework for climate action is in place.
In the face of a potential U.S. leadership void, China appears more than willing to step in. At COP, Chinese vice foreign minister Liu Zhenmin stated that U.S. policy changes "won't affect China's commitment to support climate negotiations and the implementation of the Paris Agreement." China sees great economic self-interest in being the dominant global supplier of wind, solar, and other low-carbon goods and technologies. Last year, China alone installed half of the world's new wind power sources.
Georgetown Climate Center Sponsored Events
During this second week, we also had the chance to attend a few events that focused on the importance of subnational actors. Two events in particular, on Thursday, November 17th hosted by the Climate Action Reserve, The Climate Registry, and the Georgetown Climate Center, helped give perspective on what states and cities are doing to combat climate change. In many cases, subnational actors like these around the world are leading the fight on climate change. For a full analysis of these two events, please read Helen Han's blog on the topic. Here are some of the highlights:
With an uncertain future for U.S. climate change policy at the federal level, leadership from the state and city level has never been more important. These "subnational" actors have already shown themselves capable of becoming engines of ingenuity in states like California (which is the 5th largest economy in the world and a global climate leader in its own right), Vermont (which, along with New England as a whole is already experiencing many effects from climate change), and cities like New York and D.C. which are both remaking transportation systems and building design to be more green. Cities and states all over the world are following suit and are seeking to implement green policies that will ensure their sustainability.
According to a 2014 U.N. report World Urbanization Prospects, 54% of the world's population now lives in urban areas. By 2050, that proportion will increase to 66% with another 2.5 billion people added to urban areas by that time. The world's urban population alone is expected to surpass 6 billion by 2045. The report also projects that by 2030, there will be 41 "mega-cities" with 10 million inhabitants or more (up from just 10 in 1990).
These shifting demographics are striking. The importance of governors, mayors, and other state and local leaders being at the table to craft effective climate policies will no doubt grow in the coming decades. The stakes are high to ensure cities and states green as they grow and that coastal cities implement effective adaption plans to rising seas and storm surge in order to protect their growing populations.
As Secretary of the Vermont Agency of Natural Resources Deb Markowitz put it, "It's the states and cities that are dealing with climate change and we are looking for solutions."
CMA1
Also during the second week, the first meeting of the implementation of the Paris Agreement — known as CMA1 — occurred. This meeting was made possible due to the ratification of the Paris Agreement by over 55% of signatory parties (much earlier than anyone expected by the way) and, moving forward, the CMA will be the annual convening to implement action on ensuring the world keeps global average temperature increase to less than two degrees Celsius above pre-industrial levels.
As outlined in the McCourt E&E "Five things to Follow" blog, "CMA 1 will try to establish rules, procedures, and agendas for future CMA sessions at future COPs." Will Hackman attended the opening of CMA1 on November 15. The first few hours were spent watching world leaders greet the King of Morocco, Mohammed VI, on their way into the meeting tent. Once everyone was finally settled, the president of COP22, Moroccan Foreign Affairs Minister Salaheddine Mezouar, quickly suspended business so that high-level statements could be made. The Moroccan King, U.N. Secretary General Ban ki-Moon, French President François Hollande, successful businesswoman and former wife of Apple founder Steve Jobs Laurene Powell, and others made passionate arguments for collective and aggressive climate action.
"What is at stake is the very existence of man, King Mohammed VI stated. "Environmental issues must be tackled in the most serious way. Negligence will jeopardize security and stability. In the name of our shared destiny and historic responsibility I urge action on climate change from every country."
"I call on the elimination of fossil fuel subsidies and an immediate transition to renewables," said Ban-ki Moon. "The Paris Agreement is proof that the international community can overcome its division and act," said President Hollande. "A promise of hope cannot be betrayed. It must be fulfilled. We must remember what unites us regardless of our differences. What unites us is what we have in common and that, quite simply, is our planet."
After opening statements, CMA1 adjourned for lunch (for four hours) and then moved into the "high-level segment" which lasted well into the night and over the following two days. The high-level segment was an opportunity for every Paris Agreement signatory country to get on stage and make statements regarding their support of the agreement, announce new climate policies or initiatives, call for support from the international community, and etc. Other CMA-related meetings happened in parallel throughout the rest of the week but it's unclear how much was actually moved forward. Although, according to one off-the-record conversation with a country delegate, CMA1 was never expected to accomplish much. Rules, procedures, and agendas will continue to be developed in future CMA meetings. This was just the first step.
Side Events
Finally, one of the most interesting components of attending a COP is what you can learn from "side events." These aren't part of closed-door country negotiations, but are organized by various entities to be attended by the public. It's at side events that civil society organizations will call for increased government action, academic institutions will release reports, and much more. The Georgetown Climate Center sponsored events on subnational actors were side events.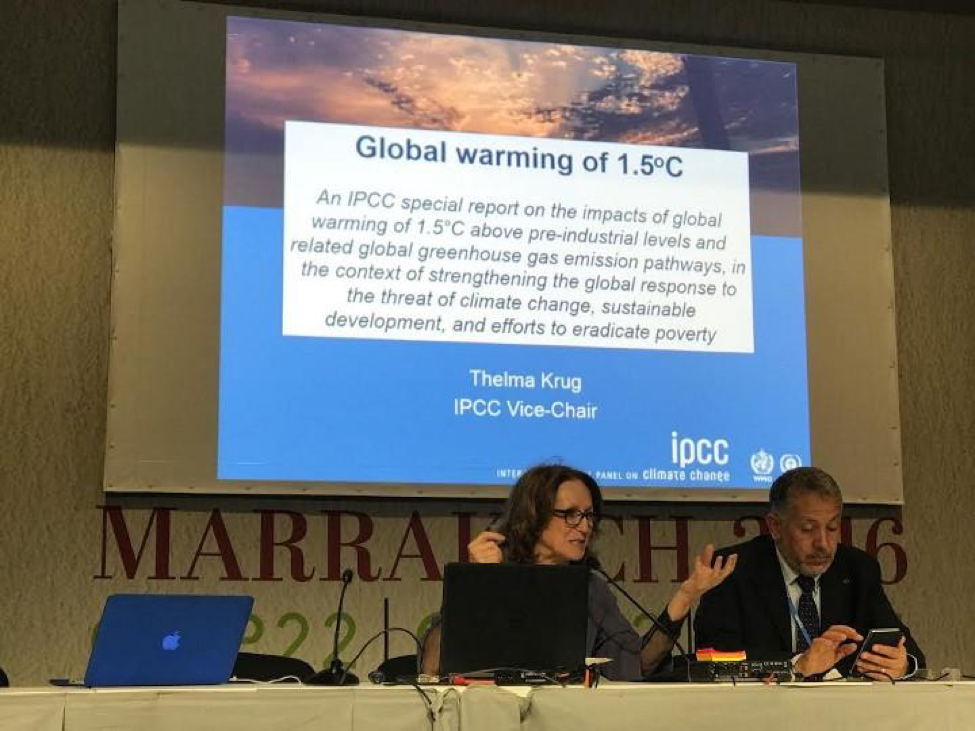 On November 14, the Intergovernmental Panel on Climate Change (IPCC) — the scientific expert body of the U.N. in regard to climate change — held a side event on their upcoming "Sixth Assessment Report" (aka: "AR6"). The mission of the IPCC is to ""provide the world with an objective, scientific view of climate change and its political and economic impacts." The IPCC described at their event how, in 2021 when AR6 is published, it will give us a much better scientific understanding of how the Paris Agreement is being implemented and if our collective actions under the Agreement are starting to move us toward a sustainable climate path. They also talked about their upcoming 2018 special report on the impacts of global warming of 1.5°C above pre-industrial levels — a key goal of the Paris Agreement. This report will broaden our understanding of what we should expect to see in coming decades as we inch closer to the 1.5 mark which may prove disastrous to small island nations due to the associated increases in sea level rise. It was fascinating to hear about the process that goes into these reports. For this special report, the IPCC formulated a steering committee to deliver a draft scoping document from the scientific community. They had over 600 applicants to the committee and only 80 were selected with about 54% from developed countries and 45% from developing to give equal representation. The IPCC also has a process for balancing gender and geographic areas in order to get perspectives that adequately represent the entire world on their report committees. There's also a delicate balance they have with how many physical scientists vs. social scientists (the policy people) they use to contribute to the report. All of this helps to build very comprehensive scientific reports that take socio-economics, geography, and policymaking into account.
However, at another side event earlier in the day by the United Nations Environment Programme (UNEP) their Chief Scientist and Director of their Division of Early Warning and Assessment, Jacqueline McGlade, warned that "if we want to stay on a pathway to 1.5, we need to see a global peak of carbon emissions within the next couple years." By the time the IPCC 1.5 special report comes out, we might all just be reading it as a manual for what will happen and not as what could still happen.
Summary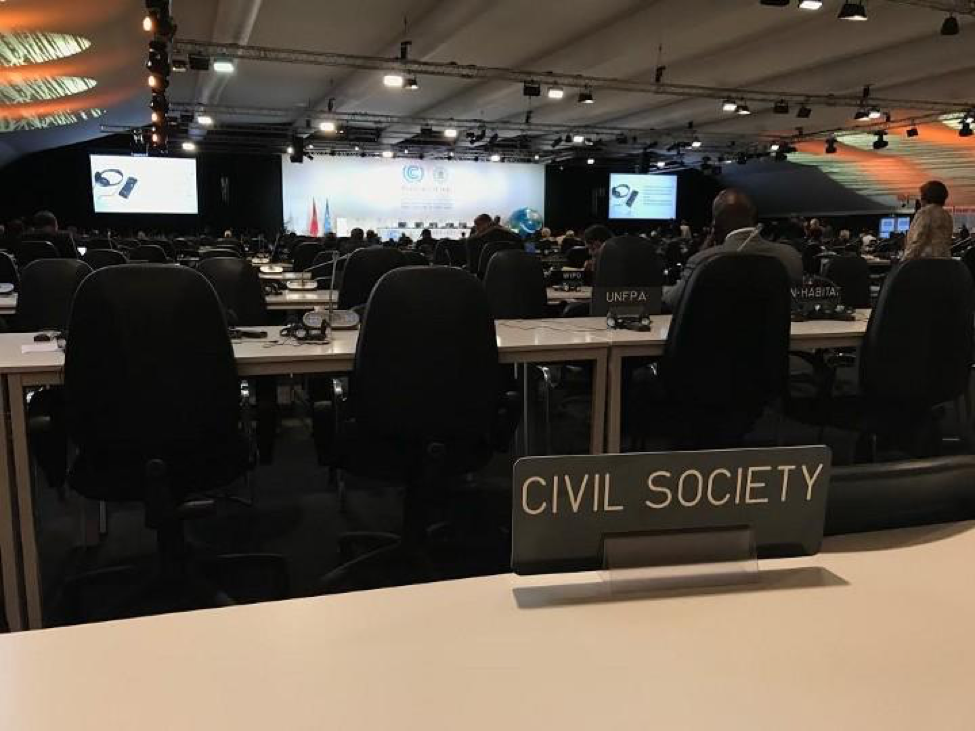 COP changed each of us in a number of ways. The knowledge we gained from our first-hand accounts will stay with us as we continue to engage in and advocate for global climate action in our respective capacities. We all took many lessons learned that will advance our careers and deepen our understandings of the science, the negotiating structure, the political realities of global agreements, the limitations of the public sector, and the importance of outside actors like the business community in ultimately achieving our goals. Each of us also saw the critical importance of civil society — the countless non-profits, advocacy organizations, research and academic institutions (like Georgetown), and individual advocates — that put relentless pressure on governments and business to move the right direction. This capacity building for climate action might be the most important component of all for without public support how does any issue move forward?
Time is our greatest enemy in the fight against climate change. Can we decarbonize the world economy in time to avoid the worst climate impacts? According to a new report by the World Meteorological Organization (WMO) released at COP, "preliminary data shows that 2016's global temperatures are approximately 1.2° Celsius above pre-industrial levels." That is just 0.3° from the 1.5° mark that could be so disastrous for island nations and over halfway toward the 2° mark that could fundamentally alter the way all of us live.
In closing, we'll leave you with words of wisdom from U.S. Secretary of State John Kerry. He delivered these remarks at a press conference on November 16 during COP22's second week. The room was packed and the passion with which Secretary Kerry spoke brought all of us nearly to tears at various times.
Secretary Kerry has shown tremendous leadership on environmentalism and combating climate change over the course of his nearly 40 years in public service. He helped launch the first Earth Day in Massachusetts in 1970 and was an architect of the 2010 congressional cap-and-trade legislation that was unfortunately defeated. Secretary Kerry has attended many COPs and even met his wife Teresa at the first U.N. climate conference in Rio in 1992 when he was serving as a U.S. Senator from Massachusetts. His speech at Marrakech, his final address to a COP as a public official, was in our opinions one of the best of his career. Read his full remarks here or watch them on YouTube here.
Notes: The Feature Image credited to IISD
The other students who attended the conference assisted in coauthoring this article.
---