Welcome to Disrupting your Month, where we gather news and interesting stories about Disruption, this year's Spring Edition Theme. This is a part of a broader effort to keep discussing Disruption from now until we publish the Spring Edition. Keep an eye out for more content!
A month ago, we announced our Spring Edition theme, Disruption. The response could not have been more positive. The timing could not have been better, either. The next day, The Economist discussed Disruption, and a flood of relevant news washed over the media landscape. Here is just some of that content from September:
Commercial Drones
First, drones. The FAA has released new rules that will allow more commercial drones to occupy our airspace. The rules mainly bar operators from being your misguided dad crashing his Father's Day gift in the neighbor's backyard. While the FAA states these rules will promote safety without stifling innovation, interested firms disagree. Not to worry, as the FAA has already granted 76 exemptions to the rules, mostly to clients who need to patrol the skies at night.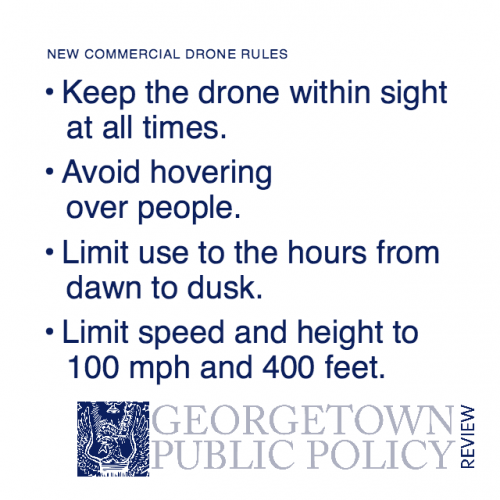 The company you are thinking about right now is probably Amazon, whose efforts to create a local delivery business out of drones spurred the FAA into action in the first place. A Bloomberg report details how the online store is buying planes and shipping containers while also investing in self-operating drones and trucks. Amazon is investing in both old and new ways to disrupt shipping companies, while also patenting algorithms that will box items for shipping before you buy them. Despite these investments, a much smaller company, Flirtey, has beaten them to the punch, delivering small items from participating 7/11's.
Driverless Cars
Meanwhile, the self-driving car industry has accelerated its progress.  The Obama administration has released a rulebook governing self-driving car testing, including "details on how a car's software will address ethical and conflict situations on the road." While these ethical rules make sense from a consumer point of view, the Federal government is demanding zealously guarded data in a competitive new industry.
Despite the new rules, the world of policymaking is what Recode calls the "Wild West of public policy." Uber's foray into this world has been mostly free of problems, but they will soon face the need to change old laws and regulations, just as they did when fighting Taxi companies. Recode notes that Uber will be the first company to face the "absence of a cohesive local, state and federal regulatory framework," meaning nobody knows what will happen when your driverless ride hits a telephone pole.
Housing
Speaking of unregulated markets, Airbnb plans to sue the state of New York if Governor Cuomo signs legislation regulating the service. Making the threat "more in sadness than in anger," the company states that the law would harm "our community." The bill was passed to curtail what many think is a business model driving up rents, exacerbating a local and global housing crisis. Despite the problems that may be inherent in Airbnb's business model, it's pretty cool that you can rent a room in a Frank Loyd Wright house for just $150 per night.
The Future
Policymakers must react to new industries as they crop up. However, it's important to understand where Disruption will take us, rather than merely keep up with what's going on. How will society look when the dust settles? This op-ed from the Guardian theorizes that we may see the end of work: will this create a utopia or dystopia? Will society's output be distributed, or kept by a few? Ryan Avent writes that society needs to be restructured in order for these changes to be positive.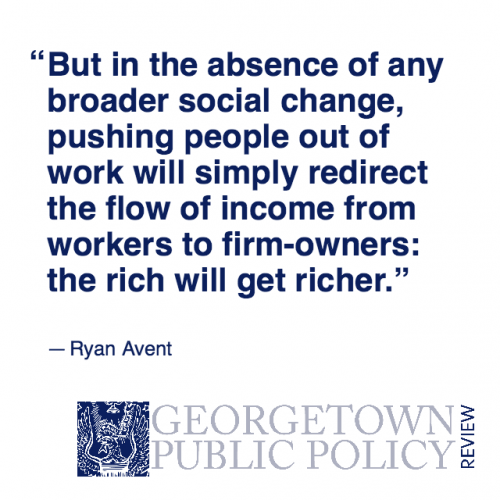 UK Labour leader Jeremy Corbyn's solution to this problem, as well as the gig economy, is universal basic income (UBI). As far as I am aware, he's the first major politician to say 'gig economy ' and the first to propose UBI. It's a radical proposal that won't be tested unless he and his party can win an election.
Summing up, it's clear that the pace of innovation and change needs to be matched by policymakers. Federal officials are catching up in terms of drones, cars, and housing, but we need to ask ourselves if Disruption will force us to rethink how our society is structured.
Did I miss something? Comment below or tweet some of your favorite Disruption news with the #GPPRDisruption hashtag.
---