For years, a cable news network billed itself as "the place for politics." While Georgetown may not be a 24-hour television station, it now has its own Institute of Politics and Public Service at the McCourt School that is set to become the place for the Georgetown community and Washington politicos to come together and focus on big political issues of the day.  
It's not hard to find someone who hates politics and politicians. But you came to  Georgetown with more optimism than that. Many of you have your sights set on careers in government, on Capitol Hill, campaigns, or other institutions that will help shape the future of our country and our world. Now Georgetown has a home for those interested in the best of what politics and public service have to offer.
And we need the IPPS now more than ever. The entire country will be focused on the 2016 presidential campaign. There will also be 34 races for the United States Senate and 435 elections for members of the House of Representatives.
The IPPS will bring this exciting political year to life.  By now you've heard about our stellar inaugural Fellows Class– Former Governor of Puerto Rico Luis Fortuño, CNN's Brianna Keilar, Republican election law attorney Charles Spies, Buzzfeed's John Stanton, and Former Obama reelection campaign senior staffer Buffy Wicks. This group will immerse themselves in life on the Hilltop, host weekly discussions on the hottest political topics, and hold office hours for students who want to get to know them better.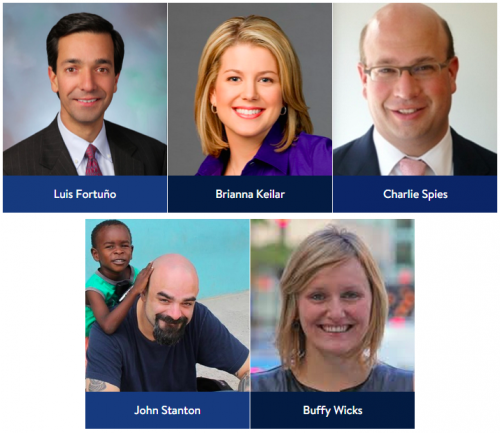 We will also host debate watch parties so students leaders can engage in sideline debates themselves. Expect campaign representatives to cross Healy lawn and present the case for their candidates under our banner too. And of course our Twitter and Facebook feeds will follow the conversations taking place on the campaign trail.
Big issues are on the table this year and every year. That's why we won't just follow the horse race of election year politics. IPPS will also focus on policy, near and dear to McCourt students' hearts, such as the economy, the environment, criminal justice, and the role of entrepreneurship in solving society's biggest challenges.
As you know, we also just announced our dynamic Board of Advisors who will help us with programming and encouraging some of the biggest public names to visit campus.  A Student Advisory Board will join that group of prominent national political figures.
Students will have several ways to participate in what we are doing. In addition to attending the fellows' weekly discussion groups and joining the Student Advisory Board, students can also apply to work with individual fellows on their programs for the semester.
Our mentorship program will give students access to some of the best and brightest in Washington, D.C. to work together one-on-one and learn from each other. Mentors will include top Hill staffers, leading communications consultants, campaign managers, public opinion researchers and more.  
Politics is tough and it should be — there's a lot at stake. The competition of ideas through politics and partisanship should be a good thing.  We want to make that conversation happen on multiple levels in as many interactive ways as possible.
As a Georgetown alumnus, every day I show up to work here is like my own personal homecoming. I spent time this summer talking to current students about what they hoped for this Institute and often think about the things I would have wanted to do when I was a student. Those conversations and thoughts informed our approach to this Institute.
We hope that students interested in politics and public service find our programs compelling, useful, and enjoyable.  A lot of people say that DC is the problem with politics.  We hope you will help us make it, and Georgetown, part of the solution.
---
---