In his role as Chairman and Managing Director of the Commercial International Bank (CIB) since 2002, Hisham Ezz Al-Arab has led the largest private bank in Egypt during a period marked with extreme social and economic challenges. Matthew Cook spoke to Mr. Ezz Al-Arab about the influence of the banking sector on Egypt's stability and how the banking sector will be a part of revitalizing Egypt's future. 
GPPR: What is the most important investment sector in Egypt? More broadly, which sector could have the greatest impact on the economy?  
HE: In light of prevailing conditions, opportunities in Egypt are limitless across all sectors including but not limited to the services sector, tourism, and shipping (Suez Canal logistic services), among others. We view the infrastructure sector as the backbone of the economy that will facilitate progress and growth in various sectors across the board. It all comes down to the cabinet and their stance of focusing on the economy and commitment to revitalizing the private sector, ultimately leading to private sector investment and consequently foreign direct investment.
GPPR: What is the most important risk factor that Egypt needs to deal with in order to continue to grow its economy?
HE: In order to continue to grow its economy, Egypt needs to continue to further cement its commitment to reform. A lot has been achieved so far with the energy sector reforms where before the removal of energy subsidies, 82 percent of the said subsidy went to only 17 percent of the top society. Nevertheless, there is still more room for reforms and improvements.
GPPR: There has been a lot of talk about the Central Bank of Egypt's decision to allow the Egyptian pound to depreciate relative to the US dollar. How has this decision impacted you, and what effect do you think it will have on the economy?
HE: We view this decision as rational to put the depreciation of the Egyptian pound at parity with other currencies. Ultimately, this decision will help induce the exportation businesses in the economy as well as incentivize investments.
GPPR: Egypt hosted the Egyptian Economic Development Conference (EEDC) from March 13th to March 15th. How do you see this conference relating to the important investments and risk factors you spoke about before? How do you see CIB being a part of the economic development coming out of this conference?
HE: The purpose of this conference was to reintroduce Egypt and lay the new road map of doing business and define an economic DNA for the country. Such DNA may not be agreeable to all parties: however, everyone was provided with a clear direction on where the country is going and how the money will be directed.
During the conference, everyone—government officials and private sector, locals and internationals—seemed aligned and firmly believed that Egypt is now a go and that this is the beginning of a new era, an era of work, devotion, and dedication to building a new Egypt. The conference exceeded everyone's expectations making everyone, private sector and public sector alike, revisit their strategies and reconsider their footing in the market. There is a lot of work to be done given the expectations of significant growth. We at CIB need to prepare ourselves so that CIB can capture these opportunities, and we have to make sure that we upgrade our capacities to accommodate what it is to come.
GPPR: Egypt is continuing to work its way back from the economic and social issues that have plagued it since 2011. What role has CIB played in Egypt's growing economic stability, and are there any keys to your investments in the face of political upheaval?
HE: Despite the political and economic challenges of the past few years, Egypt's fundamentals remain solid. The diversity of our economy, in particular, buoyed the country's resilience and the underlying Egyptian business growth story is a good one; promising investment opportunities are still to be found in Egypt.
The banking sector has come through the recent period of economic instability relatively unscathed. Egyptian banks proved to be much more resilient than most market participants had thought. It's imperative to mention that this stark demonstration of the health of the sector throughout the recent global financial crisis, which was followed swiftly by Egypt's political and economic changes starting in 2011, is a result of a long-term process of consolidation, privatization, increased foreign ownership of banks, and recapitalization starting in the early 2000s. This process, led by the Central Bank of Egypt (CBE) and accompanied by a raft of new regulations aimed at strengthening the sector, has succeeded in creating a stable, liquid, and well-capitalized banking industry in a little under a decade, one that produces one of the best risk-adjusted returns globally.
The banking sector in general and CIB in particular, have consistently supported the economy since 2011. We took it as an opportunity to invest in infrastructure and in human capital. Significant investments, which might have been viewed by some as excessive, have been made over the past four years and have brought us closer to becoming the "Bank of Tomorrow" we hope to be.
Moreover, parting from the Bank's conviction of achieving a balance between increased profitability and serving broader socio-economic interests, our commitment to corporate social responsibility continued to rate high on our agenda where in 2010 the amount of approximately Egyptian Pound (EGP) 7.5 million and in 2011, EGP 20.1 million were allocated by the Bank to the CIB Foundation for the health and nutrition services it supports, with the ultimate goal of creating new beginnings for children across the country. This amount rose exponentially to a record of approximately EGP 40.7 million in 2014. Furthermore, CIB was an active part of the Federation of Egyptian Banks' initiative to support the slum areas. The past turbulent four years resulted in the deterioration of water supplies and electricity in those areas and the Egyptian banks under the auspices of the Federation collectively pledged EGP 300 million to help those areas.
This thus reaffirms our longstanding belief that the "Raison d'être de CIB"transcends the notion of simply standing by society and instead goes beyond to create a holistic value system that feeds through and nurtures the concept of sustainability in every way possible.
GPPR: More broadly, do you have any advice for leading banks in other countries where the country is trying to come back from political and social problems to create economic stability? Are there any governmental reforms or policies that you think have particularly helped Egypt's economic outlook?
HE: There is no "one size to fit all," neither economically nor politically. The model that succeeded in one country cannot be replicated in another. But one thing is sure, a weak banking sector wouldn't be able to support its economy like the Egyptian banking sector did. The series of reforms dating back to 2004 that I previously mentioned helped shape the Egyptian Banking sector into the strong, resilient pillar and backbone that allowed the Egyptian economy to survive the past turbulent times.
About Hisham Ezz Al-Arab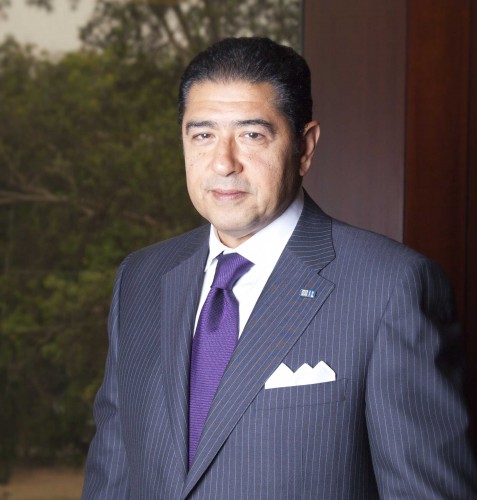 Hisham Ezz Al-Arab is Chairman and Managing Director of the Commercial International Bank (CIB), the largest private sector bank in Egypt. Under his leadership since 2002, CIB's market capitalization has grown from $200 million to $4 billion. Mr. Ezz Al-Arab also serves as the Chairman of the Federation of Egyptian Banks, the first private sector banker to be elected to this position. Mr. Ezz Al-Arab is a Director of the MasterCard Middle East & Africa Regional Advisory Board and a principal member of the American Chamber of Commerce. He serves on the Board of Trustees of the American University in Cairo (AUC). In 2010, he founded the CIB Foundation, a non-profit organization dedicated to enhancing the lives of underprivileged children in Egypt. Prior to joining CIB in 1999, he was a Managing Director at JP Morgan and Deutsche Bank, both in London. Mr. Ezz Al-Arab is a graduate of Cairo University.
This interview was conducted by Matthew Cook via email on March 25, 2015.
Feature photo: Wikipedia
---
---